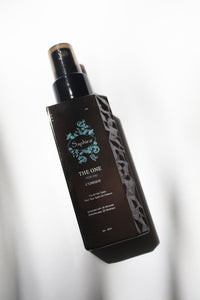 The One is a leave on mask infused with 26 active minerals that blends multiple benefits into one amazing product. It controls frizz, heals split ends, color saver, heat protectant, a detangler and has a low pH. This advanced leave on spray mask is great for all types of hair.
1. Repairs dry & damaged hair
2. Frizz control
3. Heat protection
4. Renews & revitalizes Color
5. Detangles knots
6. Glamour & shine
7. Improves the results of straightening treatments
8. Long-lasting hairstyle
9. Prevents split ends
10. Adds volume and body
Spray on hair when wet or dry and comb through. When applying color, spray The ONE onto each section to treat hair with a layer of minerals.
Ingredients:
Enriched with 26 Active Dead Sea minerals
Pure Keratin
Obliphica Oil
Pistachio Oil
Macadamia Oil