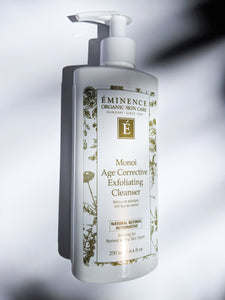 Wash away impurities, remove surface debris and experience smooth skin like never before with this multi-action, exfoliating cleanser infused with exotic monoi. Cruelty-free and formulated without parabens, sodium lauryl sulfates, synthetic dyes, petrochemicals, animal by-products, phthalates, GMOs and triclosan.
Mix (dilute) a small amount of product (pea size) with water in hands. Apply and massage into the skin with fingertips in a circular motion, covering the face and neck for 1–3 minutes, avoiding the eye area. Completely remove with a damp face cloth and finish with an application of toner.
Key Ingredients
Natural Retinol Alternative: skin appears immediately lifted and tightened; contains chicory root oligosaccharides and tara tree gum
PhytoCellTec™ Swiss Green Apple Stem Cells: plant stem cell concentrate; promotes elasticity and delays the visible signs of aging
Monoi: fragrant Tahitian oil; hydrates and firms the appearance of the skin
Finely Ground Olive Seed: gentle manual exfoliant
Natural AHA Cocktail (Lemon, Passion Fruit, Grape & Pineapple Extracts): removes dead skin cells naturally
BioComplex: a booster of antioxidants, Coenzyme Q10, and Alpha Lipoic Acid to reduce the appearance of wrinkles and improve the appearance of skin
We Believe in:        We say NO to:
✔ Organic                ✖ Parabens            
✔ Natural                 ✖ Phthalates
✔ Biodynamic®         ✖ Sodium Lauryl Sulfate
✔ Sustainable            ✖ Propylene Glycol
✔ Cruelty Free           ✖ Animal Testing

Our natural, organic and Biodynamic® ingredients may have slight variations from harvest to harvest.
Retail Size: 8.4 oz / 250 ml
Winner of Best Anti-Aging Range, Natural Health International Beauty Awards, 2019
Winner of Best Anti-Aging Collection, ASCP Skin Deep Readers' Choice Awards, 2018 ​​

Winner of Best Cleanser, Beauty Shortlist Awards, UK, 2017
Not finding the Eminence product you are looking for? You can shop from all of Eminence's product offering on their website through this link: here and still support Amri!