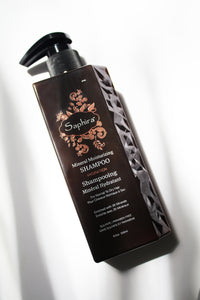 Mineral Moisturizing Shampoo is formulated to moisturize normal to dry hair. Enriched with 26 active Dead Sea minerals and pure keratin extracts, the Mineral Moisturizing Shampoo restores the structural integrity of each strand of hair.
Cleans by removing dirt from the hair while dissolving it without damaging hair color or keratin treatments.
Apply a generous amount onto wet hair, lather and rinse; apply 2x. For daily use.
INGREDIENTS
Enriched with 26 active Dead Sea minerals
Pure Keratin
Vitamin E
Macadamia oil
34oz/1000ml, 3oz/90ml, 8.5oz/250ml