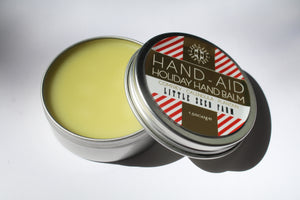 1.5 oz | 42 g ℮
Soothe and heal dry hands with our organic herbal balm - HAND-AID!

Hand-Aid is carefully crafted using only organic, healing ingredients. Our coconut oil is infused with comfrey, calendula and plantain to gently nourish and repair hands. Organic shea butter, hemp seed oil, and a custom blend of essential oils make Hand-Aid a perfect solution for hardworking hands. Hand-Aid can be used on any part of the body that needs help.
Massage balm gently into skin to relieve dryness and heal distressed skin. For best results, re-apply after washing hands.
Ingredients: organic coconut oil (infused with organic comfrey leaf, calendula, and plantain), organic shea butter, beeswax, organic hemp seed oil, organic rosemary essential oil, organic spearmint essential oil, organic lemongrass oil.