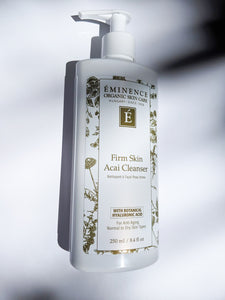 Antioxidant-rich acai berries are perfect for revitalizing mature skin. This cream cleanser also blends hyaluronic acid and seabuckthorn oil to restore the appearance of elasticity to the skin and present a more youthful look. Cruelty-free and formulated without parabens, sodium lauryl sulfates, synthetic dyes, petrochemicals, animal by-products, phthalates, GMOs and triclosan.
Mix (dilute) a small amount of the product (pea size) with water in hands, apply and massage into skin with fingertips in a circular motion covering the face and neck for 1–3 minutes. Completely remove with a damp face cloth and then finish with an application of toner.
Key Ingredients
Acai Berry Juice: antioxidant; phytonutrient and rich in vitamin content; nourishes and moisturizes to improve skin tone
Botanical Hyaluronic Acid (from marshmallow plant extract): deeply hydrating; natural substance that smooths and plumps skin to minimize the appearance of fine lines and wrinkles
Blueberry Juice: nutrient, antioxidant
Raspberry Juice: antioxidant; source of vitamin C and bioflavonoids
Seabuckthorn Berry: vitamin and nutrient-rich; protects skin's moisture barrier and fights the look of wrinkles
BioComplex: a booster of antioxidants, Coenzyme Q10, and Alpha Lipoic Acid to reduce the appearance of wrinkles and improve the appearance of skin
We Believe in:        We say NO to:
✔ Organic                ✖ Parabens            
✔ Natural                 ✖ Phthalates
✔ Biodynamic®         ✖ Sodium Lauryl Sulfate
✔ Sustainable            ✖ Propylene Glycol
✔ Cruelty Free           ✖ Animal Testing

Our natural, organic and Biodynamic® ingredients may have slight variations from harvest to harvest.
Retail Size: 8.4 oz / 250 ml
Not finding the Eminence product you are looking for? You can shop from all of Eminence's product offering on their website through this link: here and still support Amri!