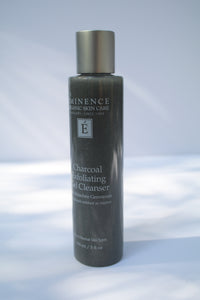 Formulated with charcoal, malachite gemstones and blue matcha, this supercharged purifying cleanser transforms from a gel to an exfoliating lather to wash away impurities and reveal a balanced complexion.
Mix a small amount of product with water in hands, apply and massage gently with fingertips in a circular motion covering the face and neck areas. Rinse thoroughly and pat dry. Do not use on broken or abraded skin.
Key Ingredients:
Charcoal: draws out oil, dirt and other harmful substances from clogged pores due to its absorption powers; improves the appearance of skin health 
Malachite Gemstones: stone of transformation, helps the mind release stress and feel optimistic and balanced
Blue Matcha (Butterfly Pea Flower): Rich in antioxidants that improve the visible signs of aging; increases the appearance of skin's vitality 
Peppermint: rich in antioxidants and Vitamins A and C that target and improve the appearance of aging
We Believe in:
We say NO to:

✔

 Organic

✖

 Paraben

✔

 Natural

✖

 Phthalates

✔

 Biodynamic®

✖

 Sodium Lauryl Sulfate

✔

 Sustainable

✖

 Propylene Glycol

✔

 Cruelty Free

✖

 Animal Testing
Our natural, organic and Biodynamic® ingredients may have slight variations from harvest to harvest and batch to batch.
Retail Size: 5 oz / 150 ml
 Not finding the Eminence product you are looking for? You can shop from all of Eminence's product offering on their website through this link: here and still support Amri!